When the time arrives to replace an aging or damaged roof, there are several options to take based on different factors that are unique to each homeowner. If you're planning to stay in your home for a long time, a GAF roofing system is among the most trusted and dependable for excellent protection, beauty, and reliability that will last for years to come.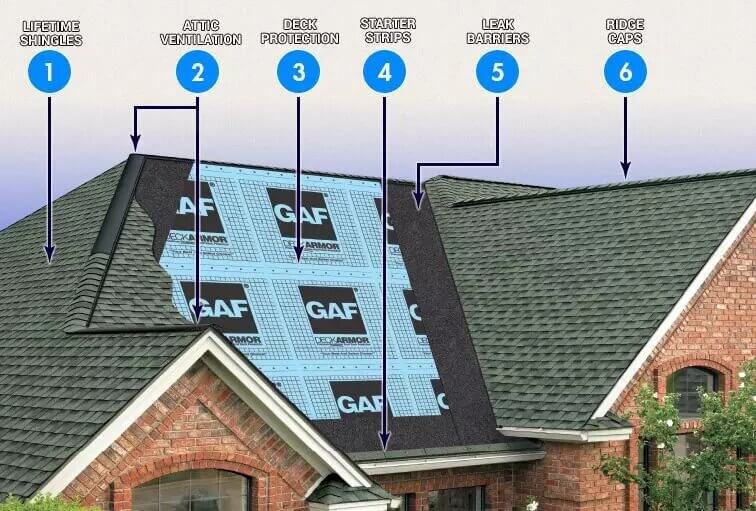 In this article, we'll discuss the advantages of a GAF Lifetime Roof System while reviewing the different quality measures and steps required for a beautiful, flawless install by a Lakeland Roofing Company.
Removal of the Existing Roofing Materials
The initial phase in the GAF Lifetime roof replacement procedure is the removal of the existing roofing materials. This includes the careful removal of the old shingles, ice/water shield barrier layers, ridge caps, and any accumulated debris. After the roofing materials have been completely removed, a professional GAF Certified Lakeland Roofer will perform an evaluation of all key components and structures. This is done to reveal any underlying damage so that proper repairs can be made before the installment of the new roof begins.
Ice & Water Shield/Leak Barrier and Surface Deck Protection
With the surface and support structures ready to go, your Lakeland Roofing Contractor will begin to install the leak-barrier next. This self-adhesive waterproof membrane keeps moisture and other types of storm damage away from the surface and damage prone areas. When joined with the installation of GAF roof deck protection materials, you'll have increased security from issues such as blown off shingles, buckling, and leaks.
Shingle Prep and Installation
Once the underlying surface has been completely removed, evaluated and prepped, shingle installation can begin. The initial step is to install starter strip shingles on the perimeter(s) which provides added protection from shingle blow off and leakage. From that point, asphalt shingles are applied following GAF's meticulous process. GAF shingles come in a full range of styles and colors, enabling you to create the desired appearance for your home.
Roof Hip and Ridge Protection
Once the shingles have been completely installed, the roof ridge vent becomes one of the last steps of the innovative GAF roofing system procedure. A ridge vent is applied to help remove trapped heat and moisture in your attic, before the installation of cap shingles on the ridge and hip to ensure a clean, consistent appearance. Together, this blend of innovative application and roofing materials results in a beautiful roofing system that increases the value and weather protection of your home.
CALL Wood's Roofing FOR A FREE ESTIMATE AT (863) 513-7775 OR USE OUR CONTACT FORM
If you're interested in learning more about home maintenance and the other services we offer, please follow us on Facebook.
Satisfaction is guaranteed. Call us for a free quote.