Your Hurricane Irma Preparation Checklist
What is a Hurricane? This is a storm with a sustained wind force of 74 mph or greater. These storms are traced from the time they become a tropical wave until they develop into a hurricane. Hurricane season is June 1st through November 30th.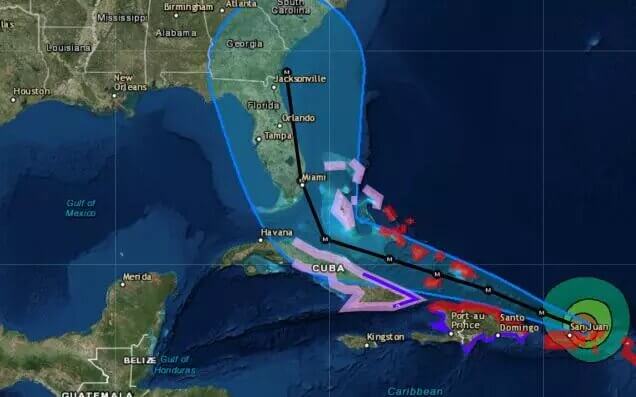 The Bartow Police Department offers citizens these tips when preparing for a hurricane or other natural disaster:
Do I leave or do I stay? If you leave, have preparations made in advance. Do not wait!!! When you wait too long the roads will become a parking and you may become stranded in the storm.
Before you leave your home:
Turn off:


a. water
b. electricity
c. gas

Fill freezer with containers of water.
Have plenty of cash on hand.
Make sure important papers go with you (keep these in a water tight container or ziploc bag).
Have an up-to-date inventory of possessions for insurance purposes with descriptions, models, and serial numbers of items. Include purchase price and date (Operation ID). Secure a video tape or take photographs of all possessions and keep in safe deposit box. (Take this along with you when you leave.)
If you stay:
Know location and routes to Red Cross shelters.
Secure home and grounds (tape windows, tie down or store yard items, etc.)
If in a mobile home community, evacuate to shelter immediately whenever a Hurricane Warning or Disaster is declared.
Turn freezer to lowest setting and fill it with containers of water so it will stay colder longer.
Keep a two-week supply of non-perishable foods, needing little or no preparation. Don't forget non-electrical can opener and emergency cooking equipment, i.e. grill, Coleman stove (for outside cooking).
Have at least one (1) gallon of water per person per day.
Secure important papers; labeled ziploc bags, currency in small denominations only.
Have emergency cash available. ATM's will not be working.
Have flashlights and fresh batteries with replacements.
Have portable battery operated radios and/or televisions.
Scour bathtub and rinse with household bleach, then with water. Fill the tub with water for use in the toilet.
Make sure your vehicle is full of fuel.
Have all medications for a full two weeks; include a first-aid kit.
Be prepared to be completely self-sufficient for at least two weeks.
After Disaster:
If evacuated, delay return until authorized.
Seek medical help at Red Cross stations or hospitals.
Do not go into disaster areas.
Drive, only if necessary.
Beware of snakes and insects moving to high ground.
Avoid all structurally damaged buildings.
Guard against spoiled food.
Notify insurance agent of damage.
Make temporary repairs to protect against further damage and looting.
Beware of unscrupulous opportunities: i.e. price gouging. Polk County has a gouging ordinance. Jail time for price gouging is 6 months and $500.00 for each offense.
Curfew ordinance starts in any local emergency.
Do not wire emergency generator directly into house, draw power directly from generator.
Red Cross Shelters:
Opened as needed in emergency area(s). There are 41 primary shelters in Polk County.
Bring special foods, i.e. baby food, diabetics food, etc.
Bedding.
Medicine for 2 weeks.
Personal items (toothbrush, toothpaste, soap, deodorant, books, puzzles, etc.)
Flashlights, extra batteries.
Portable radio.
Food and drink will be provided.
Items NOT permitted in shelter: guns, alcohol, pets.
Potential capacity of 40,000-50,000 persons. 102 shelters are available.
Special Needs Program:
Temporary emergency facility capable of providing medical or nursing care which does not necessitate a hospital.
Transportation assistance available to: Special needs shelter, public shelter, or nursing home/hospital.
Pre-registration in the program is preferred by contacting Emergency Management office (863) 534-5600.

You can download the form.SPECIAL NEEDS REGISTRATION FORM

The three Special Needs Shelters in Polk County are:

Haines City Adult Daycare Center 751 Scenic Hwy., Haines City
Lakeland Adult Daycare Center 1200 Southern Ave., Lakeland
PCHD Specialty Care Units 1255 Brice Blvd., Bartow

Bring backup oxygen supply and medical/electric equipment and medications (at least 72 hours).
To register for the Special Needs Program or to receive more information, contact the Polk County Emergency Management Division at (863) 534-5600 or Citizens Information Line (C.I.L.) at (863) 534-0321 or 1-(866)-661-0228.
Mobile Home Park Emergency Notification System:
System of notification for all county emergency situations (chemical spills, severe weather, hurricanes, wildfires, etc.)
Established as backup for radio and television emergency information service.
Recorded message from Polk County Public Safety Department announcing the emergency and a number to call if evacuation is necessary, and locations of open Red Cross shelters.
List of three (3) designated people in each community to be contacted by the notification system. There should be a primary contact and two secondary contacts.
To receive more information, contact the Polk County Emergency Management Division at (863) 534-5600; Citizens Information Line (C.I.L.) (863) 534-0321 or 1-(866)-661-0228.
For more information contact the COMMUNITY SERVICES TEAMat 863-534-5034 during normal business hours.
Satisfaction is guaranteed. Call us for a free quote.