A Roof Repair & Replacement Contractor You Can Trust
Your Roofing Company Serving All of Polk County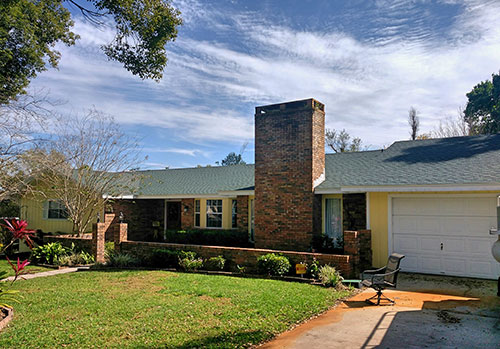 Wood's Roofing has a proven track record in residential roof repair and roof replacement, plus new construction roofing. Based on our experience, we know that all roof repair jobs, no matter how large or small, require expert attention to detail and should be handled by experienced experts. Inexperienced roofing contractors simply address the first obvious sign of trouble and end up ignoring the root problem. Or, they try to sell you on the idea of replacing your roof when it may not be necessary.
When you choose Wood's Roofing as your roofing repair contractor, you are selecting a locally-owned and -operated roofing company with the knowledge and experience to properly repair your roof.
Your Satisfaction Is Our Guarantee
Whether your repair is large or small, Wood's Roofing strives to exceed your expectations by communicating clearly throughout the process. We start by carefully listening to your concerns about your damaged roof. We will then arrange a time to have one of our expert technicians inspect your roof. Before any actual work is started, we'll explain to you all the issues we found and give you an honest recommendation and a fair estimate for what it will take to get your roof repaired.
Roof Repair & Replacement Services
Shingle Roof Repair & Replacement
Most shingle roof leaks happen in predictable places like the eaves, valley, plumbing stack pipes, sidewall flashing, ridge vents and roof plane. Roof leaks are caused by storms, wind, sun, hail and general aging. Under some circumstances, your insurance company may pay for the cost of a new roof. The manufacturer may pay for other damage you incur. It depends on the reasons your roof is leaking.
Wood's Roofing will provide a free estimate and expert advice. When you choose Wood's Roofing, rest assured that your project will be completed on time, within budget and to your exact expectations.
Storm Damage to Roof
If you encounter any storm damage or leaking has occurred from a storm, Wood's Roofing will provide a comprehensive analysis, including recommendations for repairs, cost estimate and a timeline for repair.
Inspections and estimates are provided by Wood's highly trained and skilled technicians with over 10 years of experience in the roofing field.
Flat Roof Repair & Replacement
Florida's high heat is demanding to flat roofing. Our hot sun "bakes" the roof, plus high humidity will cause leaking, cracks and discoloration. These kinds of damage, when overlooked or ignored, will cause permanent damage, maybe even eliminating the possibility of repairs and requiring a complete tear-off and replacement.
New Roof Construction Services
Building a new home? Let Wood's Roofing install a high-quality shingle or metal roof backed by superior workmanship and warranties.
RESIDENTIAL ROOF REPLACEMENT
With most homeowners' limited knowledge of roofing systems, they may not realize that one of their biggest investments – and largest contributors to curb appeal – might also be showing signs of deterioration.
ROOF REPAIR & MAINTENANCE SERVICES
Just about everything that you own requires maintenance. Your car won't run forever if you don't change the oil, replace brakes and check on the engine every now and again.
BENEFITS OF AMERICAN HARVEST® SHINGLES
There are many brands of roofing shingles on the market. It can be hard to know which shingles will work best for your project. Wood's Roofing has decades of experience, and we have worked with a wide variety of materials.
LOW-SLOPE ROOFING SYSTEMS
Wood's Roofing specializes in residential low-slope roofing systems, including a roof that is part of a larger roofing system such as asphalt shingles.