Benefits of Timberline American Harvest® Shingles
Talk to Your Local Roofing Company About This Unique Product Line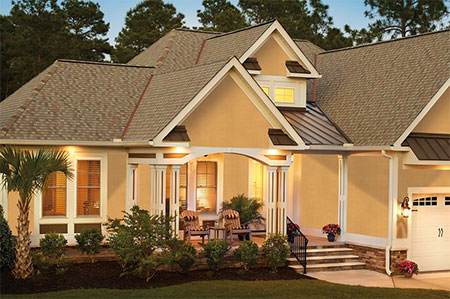 There are many brands of roofing shingles on the market. It can be hard to know which shingles will work best for your project. Wood's Roofing has decades of experience, and we have worked with a wide variety of materials. Over the years, we've come to trust shingles from GAF, the largest manufacturer of roofing products in the U.S.
Why? GAF has taken the time to perfect its process to ensure that GAF product offerings look beautiful and last for a very long time. One of our favorite GAF product lines is Timberline American Harvest® Shingles.
Why Choose Timberline American Harvest® Shingles?
With so many competing shingles on the market, what makes GAF Timberline American Harvest Shingles so special? For one, they are available in many different colors, ensuring that you'll find a shade that will match your home's exterior and increase overall curb appeal.
While appearance is important, durability is of even higher importance. American Harvest Shingles are designed for performance. They can withstand harsh weather conditions and fire. In fact, they can withstand winds up to 130 miles per hour – meaning that your shingles won't blow off during a bad storm. Further, they include StainGuard® Protection that helps the shingles resist stains and algae.
With an amazing color palette and superior performance, American Harvest Shingles are sure to enhance your home. Plus, they come with GAF's lifetime limited transferable warranty, which means that your investment will be protected for years to come. Learn more about these shingles during our initial free consultation.
Schedule an Estimate With Lakeland's Premier Roofing Company
Wood's Roofing knows you have a lot of choices for roofing materials – but choosing the right one can be a daunting task. Our experienced crew members can guide you to the perfect product for your home's requirements and your unique preferences. Let's talk about your project – call us at (863) 513-7775, or you can fill out our online form.