Low-Slope Roofing Systems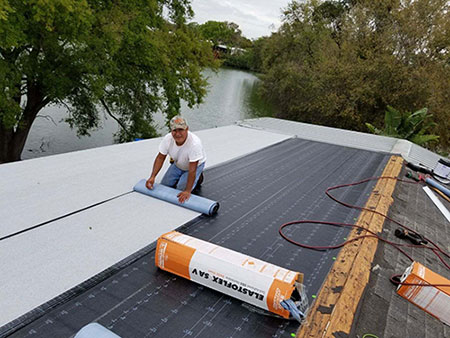 Experienced Residential Roofing Company
Wood's Roofing specializes in residential low-slope roofing systems, including a roof that is part of a larger roofing system such as asphalt shingles. We understand the diversity of residential roofing, and we are certified by the leading manufacturers of roofing materials to install high-quality roofing products for the following low-slope applications:
Porches
Garages
Rooftop patios
Balconies
Shed dormers
Complete residential low-slope roof
Low-slope roofs pose some of the greatest challenges for a roofing company. Large expanses, heating and air conditioning machinery and air vents create obstacles to making a roof watertight and long-lasting. Wood's Roofing has the product installation experience and craftsmanship to meet and exceed requirements for residential roofing of all types, including low-slope roofs.
We realize that you need to keep living during a roofing project. We minimize our interference with parking areas and entryways to keep your daily life flowing smoothly.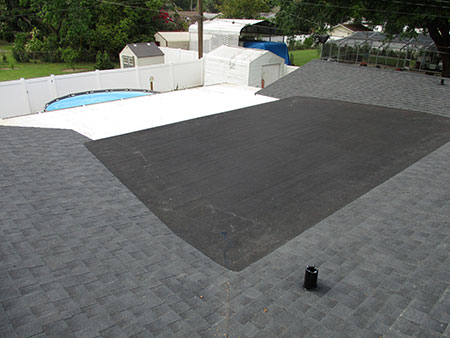 Benefits of the LIBERTY™ SBS System
The LIBERTY™ is a self-adhering base/ply sheet that can be applied without open flames, torches, hot asphalt or solvent-based adhesives. This means that a small crew can do the work without having to lug around heavy equipment. The membrane is also easier and safer to install since you don't need an open flame.
The LIBERTY flat roofing system can last for decades when properly maintained. In fact, it comes with a warranty that protects you from material defects for up to 15 years. You can even get extended warranties that guarantee that the system won't succumb to manufacturer defects and workmanship errors for up to 20 years. Learn why GAF is the largest and most trusted manufacturer in the industry and why Wood's Roofing is the roofing company you can trust with the installation.
Call the Roofing Company You Can Trust
Wood's Roofing understands that getting a new roof is a large undertaking, and you need to ensure that your selected roofing system will protect your property and its valuables. We are here to answer any questions that you have. Call us at (863) 513-7775, or you can fill out our online form.